Hello there,
We are Nathan, Mackenzi, Avanlee, and Grayson.
Nate and I have been married for almost 11 years! Whoa how the time has flown by... Especially the last 4-5 years since we welcomed our two beautiful littles into our life. Avee girl just turned 4 this year and Gray man just turned 2. We were so blessed to have found them through the miracle of adoption. Our life story has had many twists and turns, but the adventure to find our sweet littles is only a story of perfection. Both of our children found us in very different ways but the one similarity is that it was all through love. In our household their stories will always be a part of their lives. Adoption has changed our lives forever. We are excited to welcome another little angel into our family.
Meet Nate...
Nate is... "Smart, loyal, hardworking, and pretty handsome if you ask me."-Kenzi
"Dad can draw good and do art with us. He goes to work everyday, and he "Yuves" me."-Avee
"Dad ummm, quesadilla. Ummm, watch man stuff."-Grayson
Hubby, Dad, Son, Brother, Uncle, Friend...
Nate graduated from the University of Utah with a Bachelors in Accounting. While studying at the U, he played football for 2 years! GO UTES! He then earned his Masters Degree in Business Administration and is currently working as a Director in Finance. In my eyes, he is the best dad ever! He comes home everyday, changes his work clothes, and dives in with the kids. He is hands on. I get compliments all the time from others, as they watch him with our kids. He does baths and bedtime every night and enjoys spending all of his free time with our family. Below are a few things he loves and things we love about him!!!
WHO AM I, SIR? A UTAH MAN AM I! A UTAH MAN, SIR! I WILL BE TILL I DIE!!!!!!!
Nate LOVES the...
UNIVERSITY OF UTAH
Utah Utes Football! He attends every home game. Rain or shine. If you're looking for him on a Saturday in the fall, chances are you will find him at the stadium or on the couch watching the game. Freezing temperatures, rain, hail, you name it- it won't stop him from watching his Utes! We love joining him when we can! Most people are shocked that our kids will sit and watch an entire game! They are all about the snacks and music, but they love hanging out with their dad. Avee will asks everyone if they " Like BYU or Utah?" And you better have the "right" answer or you will get told what the answer should be!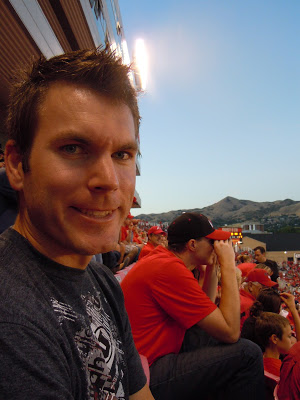 Besides being at home, I think?
Nate loves.. The water!
Growing up, Nate competed in Swimming and still enjoys it to this day. He has competed in triathlons and loves to swim wherever we go. His family vacations in Lake Tahoe every year and it is one of our favorite traditions.
And these 2 fishies love it as well...
Mom's more of a beach bum....
Nate Loves....Christmas!!
His family has so many traditions that are very special to him! From the yummy food to visiting Santa Claus Nate loves it all!!! CHRISTMAS BREAKFASt has always been His favorite-and still is. HIS PARENTS STILL WOW OUR TASTEBUDS EACH YEAR WITH CHRISTMAS TEA RINGS AND HOT CHOCOLATE! NATE also hAS TO watch his favorite christmas movie throughout the year!
"Merry Christmas, ya filthy animal!"
Before we had kids old enough to recognize "Santa" ....
Nate dressed up every Christmas Eve to make a special visit to our nieces and nephews.
He has always been supportive with anything I have wanted to do. He lives his life for us. He works hard to provide for our family and continues to amaze me at how fast he has grown in his career. From the moment he was told he was going to be a dad, he has protected and loved Avanlee and Grayson. I will never forget the tears in his eyes when we were told by Avanlees birth mom that she chose us; and then seeing his face when he found out he would have a son. You could see his heart grow instantly as he held them both for the first time. He spoils us all and we're so very blessed to call him ours....
Meet Kenzi
Hey! I'm Kenzi. The other half to my handsome hubby Nate and the voice of this page. I'm also known as "Mmmmooooommmm!!!" Or Mackenzi. For the last 4 years I have spent my time at home with our two littles. Before that I worked in the Salon and Spa industry for over 10 years. My career took me all over the nation and I loved the amazing friends and experiences I gained along the way. On the side, I have enjoyed being a coach and trainer for women wanting to achieve their fitness goals. Growing up I was an athlete, but I always had to have my hair and make up done just right. Looking back, that has shaped my life and the career choices. I'm a tomboy that loves getting dirty, but I prefer a hot shower to be available shortly after!
I may have a small obsession with Halloween...
I'm the parent that uses their kids as the reason that they dress up... Actually thats a lie. I really love to dress up. I just feel like I'm not much of an adult because I enjoy it as much as I do... In all honesty, last year Avee did request that I dress up as a unicorn... So I guess I can still blame her..
I love all things Christmas!
Except for the snow, I wish it was Christmas all year long. From the smells, food, and decorations... I love it all. Being a parent puts the icing on the cake! Now that we have kids, We have a very tricky elf that is one of my favorite new traditions. I don't know if Nate would of enjoyed searching for an elf each day, but I probably would of tried it. My kids end up with enough Christmas PJs to last all year long because I just LOVE them!!! Decorations go up the day after Thanksgiving and that is a really difficult wait for me! Growing up my favorite Christmas tradition was Christmas Eve at my grandparents house. We pack at least 80-100 of us in my grandparents little home for a yummy dinner and visit with Santa. They started this when my mom was a child and it is something I have enjoyed sharing with Avee and Gray as well.
Just not the open water.... One HUGE difference between Nate and I....
I would live on the beach if you let me... You just won't see me heading out into the open water very often... I prefer seeing exactly what is below me. And not stepping on anything that might move. I'm also pretty high maintenance about the water temperature... Lets put it this way.... I spent more time in the water on our Hawaiian vacation, than anywhere else my entire life! But the beach, land next to the water, I'm happy as a clam there.
I Love any reason to CELEBRATE!
From Birthdays, Holidays, you name it I like to plan a party or something fun for us to do as a family..... With coordinating outfits... And all the appropriate decorations!
Who wouldn't want to dress these two cuties up as often as possible?!?!?!?
I LOVE MUSIC!!!!
From concerts, to our kitchen, if there's a beat the kids and I will be dancing! I grew up doing the same with my mom and love most genres of music because of her! Country to Rap, this lady likes to turn it up loud and bust a move!!!
The only thing this page needs is 500 pictures of them..
Because they are the cutest things EVER!
Avee Girl
Our Avee girl is as sassy as they come, but steals your heart the minute she smiles. She has kept us on our toes from the day we brought her home. She is constantly on the go and doesn't slow down until she crashes. She has always known exactly what she wants and how she wants things to go. She is very smart, so she normally gets her way because of her negotiating skills. She has an amazing love for life and is up for anything. She loves cousins, friends, people at the grocery store, anyone she can talk to. This girl is going places...
If you were to ask Avee what she wanted to do??? It would most likely always involve an animal, princess, or playing outside. She would also ask "how long it was going to take?" and if she "could have a treat?"
Girlfriend has a MAJOR sweet tooth...
She wants to be a "Dancer, Cheerleader, Gymnastics Girl"
And when it comes to having fun.... She's your girl....
It's Avee's World , we're just living in it...
Big Guy Gray....
If his face doesn't melt you, I don't know what will... The moment this guy was placed in my arms I knew I was in trouble... Those baby blues, curly locks, and long lashes are a deadly weapon. Grayson is as shy as they come, but is silently as naughty as can be. He climbs EVERYTHING! He refused to walk for the longest time, but we often found him scaling our furniture or on top of any table we have. He is obsessed with all things boy. Trucks, cars, tractors, balls, loud anything, you name it... He is as rough as he is cute! We have already had one cast and I'm more than nervous that it won't be the last....
This guy is always up to something... And he's quiet so it always makes me nervous! He is sweet and stubborn all rolled into one! For the most part he is pretty easy going, but if he has his mind set on something.... WATCH OUT!
Our Guy Gray
-He LOVES being outside! He loves the dirt and anything involving yard tools! He calls it "Man Stuff" This year we put in our yard and Grayson was involved in every step of the way!
-He is a daddy's boy. Anything Nate is doing, he's not far behind.
-He knows his construction machinery like a 2 year old contractor would! Call something by the wrong name and he will correct you immediately.. With his sweet little voice.... But if you get it wrong again, be prepared. He will probably yell the correct name at you!
He may also end up with a career in the WWE.....
Lay on the floor by him at you're own risk...
What most days with Gray look like....